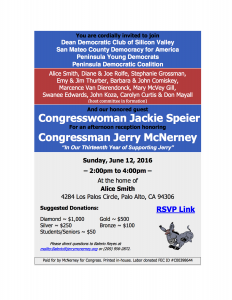 We cordially invite you to an afternoon reception June 12 honoring
Congressman Jerry McNerney
Prior To His Election To Congress, McNerney – Who Has His Phd In Mathematics – Served Several Years Working On National Security Program Before Accepting A Senior Engineering Position With US Windpower, Kenetech.
In 1994 Jerry Began Working As An Energy Consultant For Pg&E, Flowind, The Electric Power Research Institute And Other Utility Companies. During His Career, In Wind Energy, McNerney's Work Contributed To Saving The Equivalent Of Approximately 30 Million Barrels Of Oil Or 8.3 Million Tons Of Carbon Dioxide.
He's Currently a Member of The Energy & Commerce Committee, And Is Part Of The Subcommittees On Energy & Power, Commerce, Manufacturing, And Trade; And Environment & Economy.