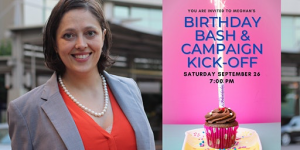 You're Invited!
As many of you know, I'm running for El Camino Healthcare District. My birthday also happens to be coming up at the end of the month! I am cordially inviting you to join me in launching my campaign, and celebrating my birthday!
I look forward to a coming year with all of you, where we reinvigorate our democracy, and build a thriving and mentally healthy community.
Hope to see you on Saturday, September 26th at 7pm for a party!
To get the Zoom link, register HERE.
Warmly,
Meghan
PS. If you have any fun party ideas, send them my way!
Learn More about the Campaign: http://www.votedrmeghan.com
Donate to the Campaign: https://secure.actblue.com/donate/dr–meghan-fraley-for-el-camino-healthcare-2020-1